The Rivermouth Action Group Inc
"SERVING MANY COMMUNITIES"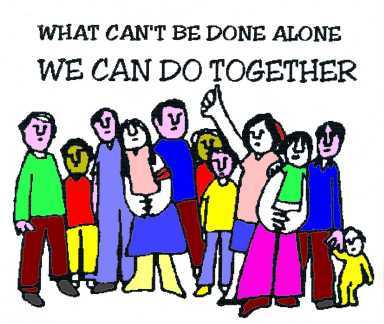 ---
Anyone who believes exponential growth can go on forever in a finite world is either a madman, an economist or just a politician.
---
INCLUDES MANY GROUPS' HOME PAGES
if you notice any error pages please advise webmaster@rag.org.au
---
This is a page from the Australian Standards AS 1742.11:2016 B2.4 to do with the orientation of parking signs.
Permission to reproduce has been granted with many thanks to Standards Australia.AS1742112016.jpg





Which way should "No Stopping" signs face?

Should there be any paint or message on them?
On both State controlled road and Local Government roads.
---
Port of Brisbane Pty Ltd welcomes Federal and State commitment to rail
---
A enlarging web site about restricted, undersized, and unmaintained drainage channels, creeks
and culverts in the Lytton / Lindum / Hemmant, Wynnum West areas of Brisbane.
How long has there been complaints about blocked drainage in the Hemmant and Lindum areas?
---
Check out The Brisbane Courier of 23 April 1928 "Letters to the Editor" on page 3.
The text below is of that "Letter to The Editor" of 23 April 1928
"HEMMANT DRAINAGE.

Sir,-The whole countryside at Hemmant and Lindum is under water this morning. The fault lies with the mouths of existing old drains having been filled up by the river dredges with silt pumped on the banks. The population around here have approached the City Council time after time to have this evil remedied. Letters also have been written, and the Progress Association has made efforts, but all of no avail. The situation becomes worse every time it rains, and has reached a point now where some drastic action seems necessary at once.

We are paying higher rates, values have been increased, and there is no doubt about it, we are getting practically no local attention worth mentioning. After all, the local bodies were more competent to deal with local affairs than this unwieldy Greater Brisbane machine which has been set up, and seems to be unworkable, to handle minor affairs, no matter how urgent they are. As drainage is the first principle of health, and we have set up a Health Board, with a mosquito department and other bodies, it would seem that some practical action would be taken on these lines, especially when several approaches have been made to the authorities in that direction.

However, the inactivity of a body set up to look after public health and comfort is amazing. If the Greater, Brisbane scheme is to have public approval and confidence, different lines of action will be absolutely necessary to prove their .worth, and merit their existence. So .far, .the public around here is sadly disappointed with- their efforts and results, and has cause to be. We have no-individual right to act, and w" cannot personally go and remedy the drainage evil, under threat of legal action, and collectively, though many efforts were made, and are still being made, we seem to be also powerless. This state of affairs is very serious. We cannot remedy the evil ourselves, and the body set up to remedy it will not act. We really pay for service, but are refused the service we pay for.

We cannot clear out and leave our places, where we have toiled and spent our money in improvements. The old settlers here had a drainage board. They had drains dug, and floodgates put in, and we, the advanced generation, allowed them to collapse, and we allow further that the Harbour Board can bank up all the possible means of water escape with silt out of the river, and we look on powerless.
We see our cultivations flooded, knowing that the neglect of duty of the authorities we set up are responsible for the damage, yet we are seemingly powerless to act. What is wrong here? Someone must rise up and move; some final effort must be made to improve the position. Drainage is the first principle of health and comfort, and it is the council's bounden duty to see to it.
I am, sir, &c.
C. ANTHONY COURT.
Hemmant, April 10.1928"
---
Just one example. The next two photos are of the same culvert.


Sandy Camp Road Park Lytton
How important is Lytton and Hemmant to Brisbane's economic future?


---
Below is photo of Hemmant Creek, Hemmant.
Notice the four box culverts.

Then Hemmant Creek then tries to flow out through the three pipe culverts in photo below.

Just past (downstream) these partially blocked pipes there is a very restrictive
tidal gate that doesn't even hold back incoming tides.
Eventually these culverts were cleaned out before 13 December 2013

Don't wonder any more why residents at Hemmant suffer unnecessary flooding.
Hemmant Creek's tidal gate does it hold back flood waters.

All queries to activist@rag.org.au
If you live in low areas of Hemmant or Wynnum West and have flooding issues
you need to read this web site to find out why and just who is irresponsible and why.

(Be Prepared as we (BCC) are not!)
Rates' Money for signs but little for drainage.
---
Brisbane City Council Shame Photos of the Month
January 2013

Lindum Creek just after it was cleaned out.

The gully along Lindum Creek was filled in for acess and fill not removed.
The flood water just opened the blocked drain and washed the fill into Lindum Creek.
It's time for the BCC to start again but this time reinstate all the blocked off drainage channels and culverts that allowed drainage into Lindum Creek.
---
BLUE CARE Carina
Blue Care's development at Richmond Road Carina Queensland is non-compliant with the conditions imposed by the Planning and Environment Court of Queensland.
The Brisbane City Council appears reluctant to enforce those conditions.
Brisbane City Council SHAME FILE # 51
---
Watch and listen to the 2 short videos of their speeches to concerned voters.
---
---
Queensland Main Roads and RoadTek Shame Files

Main Road are responsible for road side signage maintenance along most state controlled roads this does not mean it happens.
Being an equal opportunity employer it appears that limited sighted employee are employed to watch out of faded signage and pot holes.
---
The Australian Public have been subjected to a Airservices Australia HOAX Policy for more that 15 years in their attempt to artificially reduce reported noisy aircraft across Australia.
Sept 2010
---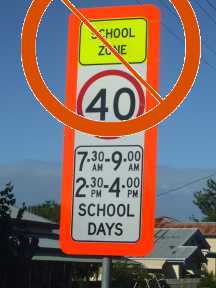 School Speed Zone Signs in Queensland
were mainly non-compliant with
Department of Main Roads'
Manual of Uniform Traffic Control Devices
• Design. Uniformity in design includes the selection of the appropriate sign shape,
colour, size, legend or symbol, and reflectorisation or illumination if the sign has
significance at night.
• Application. It is essential to denote similar conditions with the same device, or group of
devices, so that road users can readily anticipate the course of action required.
To use a device in a manner inconsistent with its use elsewhere is confusing and
consequently creates a potentially hazardous situation.
• Location. Uniform location helps drivers to notice the device and interpret the situation
appropriately.
Page 1 of http://www.tmr.qld.gov.au/~/media/8d7f5fe0-f93b-4b2b-a9ee-eeb078747d14/trumvolume116.pdf
The Bligh Labor Government announced the upgrade of all school speed zone signs with a mainly uniform times of operation across the state.
---
Driving in Brisbane has its pitfalls as traffic signage is not maintained.
Brisbane City Council can afford expensive legal council to prosecute you if you park on unsigned section of Brisbane's streets.
("There can't be signs everywhere,'' (Brisbane City Council) barrister Thomas Pincus told the court.)
If you see or know where there are faded or unreadable traffic signs please email me.
Email address is near the bottom of every web page.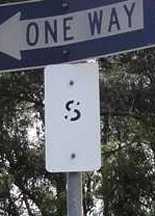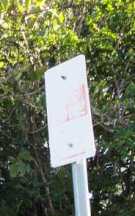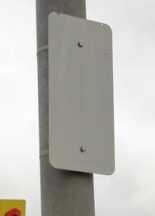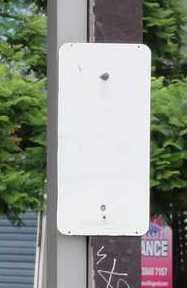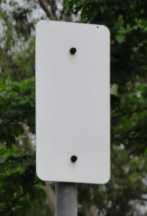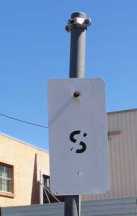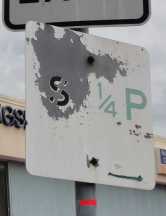 To see many many more blank and near blank traffic signs check out my new Brisbane City Council Shame File No 51
For web site: press here
TOTAL Brisbane City Council signs FOUND photographed AND REPORTED SINCE 12 DEC 2010 is now 200
---
Do you travel in T2 lanes in Brisbane when you should not?
Do you always read the signs?
Can you read the signs?
Photo taken at 6.04 pm 10 December 2010 Official sunset was 6.38 pm
Sunset on June 7 until June 12 in 2010 was 5.00 pm.
Times of operation is 4.00 pm to 7.00 pm.
Could you read this sign after sunset with low beam headlights as the times are 2.5 m above the road surface..
What does Queensland Transport literature have to say about placement of traffic signage?
"Signs should be mounted clear or roadside vegetation and clearly visible at night assuming
low beam headlights." RE:page 7 http://www.tmr.qld.gov.au/~/media/8d7f5fe0-f93b-4b2b-a9ee-eeb078747d14/trumvolume116.pdf
Yes I know that there is a mistake in the quote above but you will notice the quotation marks as that is the exact wording in the document.
Is this just good enough?
---
New Group
also
---
The Queensland Government's 'Solution to Pollution is Dilution'.
With this in their mind they have decided that,
the best filters for recycled sewerage and fluorides is
South East Queensland's human kidneys.
---
Do you really want poison added to Queensland Drinking Water?
See our
READ this web site now and write to your Politician today.
---
The results from chronic fluoride poising during tooth formation called Dental Fluorisis from groundwater in China containing 4 to 9 ppm fluoride.
---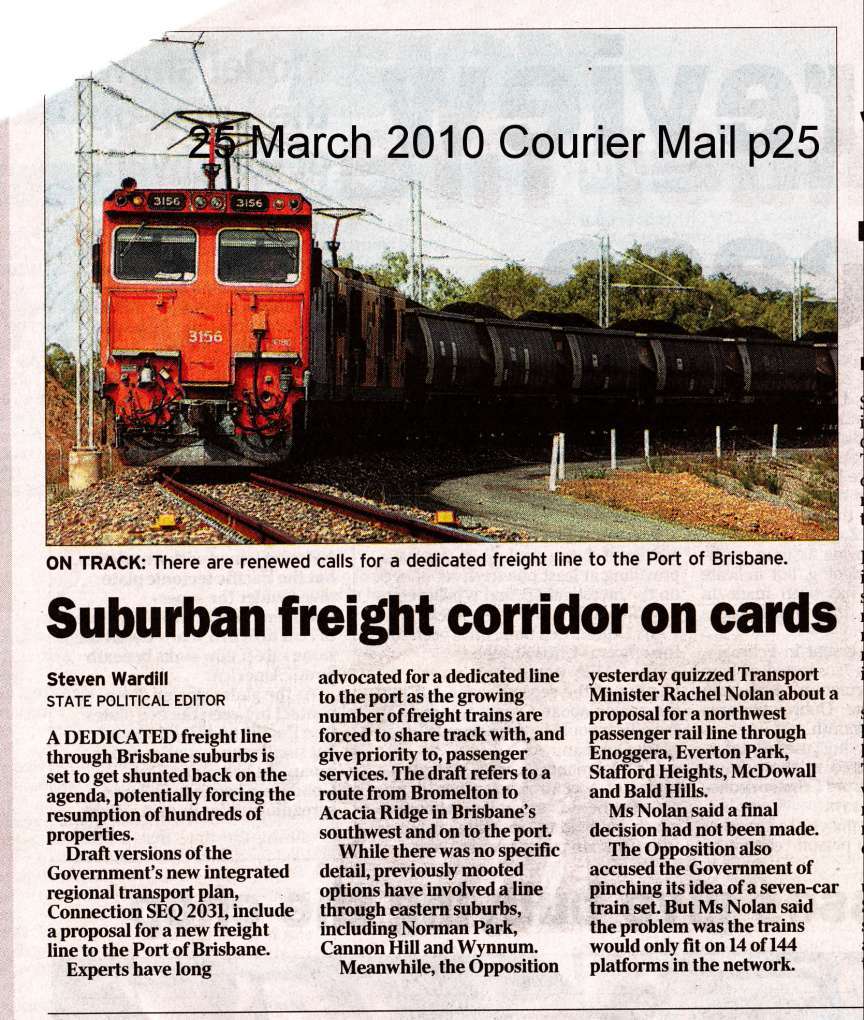 ---
---
ALTERNATIVE ENERGY
The missing link in the energy puzzle
---
WARNING:
Queensland Government changed Education Act August 2006
Queensland Government changing Education Regulations after State Election
RE: SCHOOL UNIFORMS
School Uniforms now part of the Act just not the Regulations.
MUST READ
If your child is having trouble with school uniform compliance
don't expect the Director General of Education Queensland to be of any help.
The Director General can't even decide on shoelace compliance.
---
***New Book Release ***
HOW TO SAVE BUSHLAND FROM DEVELOPERS:
A GUIDE FOR SOUTH EAST QUEENSLAND
---
A web site dedicated to protect Minnippi West Parkland from 13 Ha housing, resort golf course and habitat destruction on Brisbane's east side on public land zoned sport and recreation which was resumed 37 years ago for a PARK and road widening
---
STOP PRESS NEWS
NEW BRISBANE ANTI-TUNNEL WEBSITE
@
http://www.notunnels.net
---
BEWARE Second Dual Gauge Freight Line is planned to access Fisherman Islands Port through Brisbane's Eastern and Southern Suburbs.
When the existing Dual Gauge Rail Line was built in most cases only back yards were resumed thus the noise from the freight trains was even closer to residential homes.
We expect that the second Dual Gauge Rail Line will require the resumption of most residential properties on the northern / western side of the existing Dual Gauge Line from Acacia Ridge through to Wynnum North.
---
Shame Files
Why you may ask?
They have no publicly available Public Consultation Policy Document.
WRITTEN RESPONSE
Why do we want it?
So we can tell when they are not following policy.
What is wrong with ENERGEX present consultation?
Their vision of consultation is to tell you what they have decided to do to YOU
and you most probably have no chance in changing their decision.
We have a copy of the Queensland Labor Government Policy Document on Consultation.
Please e-mail us requests for a .pdf copy.
---
Quote of the week:
As Øystein Dahle, former Exxon vice president for Norway and the North Sea, observes, "Socialism collapsed because it did not allow prices to tell the economic truth. Capitalism may collapse because it does not allow prices to tell the ecological truth."
Quote of the decade:
Anyone who believes exponential growth can go on forever in a finite world is either a madman, an economist or just a politician.
---
Top Issues of the month
---
Energex decided before any consultation with local residents to place a new 33/110 kv power line near residents at Wynnum North on Brisbane's East.
The new power line is to supply the Port of Brisbane at Fisherman Island.
---
---
NO Golf Course in Bulimba Creek Wetlands
On Monday 3 Feb 2003 The Civic Cabinet of the Brisbane City Council (Queensland Labor Party) approved a submission to build a new golf course and 160 houses on BCC sport and recreation land at Cannon Hill.
This land adjoins Conservation Zoned land which is inhabited by Australia most dense colony of Squirrel Glider Possums.
The land on which the Golf Course is proposed is mainly a Conservation Grade Wetland / Flood Plain and much of the remaining land is covered by tree canopy and is prime Squirrel Glider land.
Many trees will be lost and any replanted trees will need to be at least 200 years old to produce hollows which provide homes for Squirrel Glider Possums.


More information on the Squirrel Glider Possums
More about the Golf Course
---
VERY!!!!!!
---
(Glyphosate = Round up = Zero)
---
If Queensland (Australia) is the "SMART STATE" Ms Premier,
then who is making all these STUPID decisions???
Webmaster.
---
---
THE CASTLE II
A Queensland Government's Shame File
Shame on Qld Transport and Qld's Labor Government
---
Waterway Pollution
Shame photos of the month June 2002
Shame video of the month November 2001
More (different) Shame photos of the month November 2001
Shame Photo/s of the month June 2001
Shame Photo of the month October 2004
Shame Photo of the month November 2004
---
Australian Inland Rail Expressway Web site
Check out paragraph 17. (The first paragraph 17)
---
---
New Rail line from Melbourne to Darwin to end in Brisbane
(Stage One)!!!
---
You must check this site out.
Correspondence to Gumdale Progress Association
No New Rail Line through southern Brisbane
TRUST US!
Especially now we are no longer in Parliament
---
Does Queensland Rail want to build a new rail line through your back yard, through your local bushland, through some significant state forest?
Check out the public consultation on new rail infrastructure
---
---
Rod Welford reneging on 1998 Promise to set up an Urgent Review Committee on Land Valuations in Queensland.
Now he is no longer the Natural Resources Minister and now not even in Parliament.
Just goes to prove this is one politician and his promises you can't depend on.
We now have a new Minister and the same promise!!
---
Expansion of Port of Brisbane at Fisherman Islands: Community Submissions
---
Phil Dickie Stories.
On Environmental Issues
Queensland Top Investigative Journalist
---
Eco-justice Praxis Group released June 2000:
Brisbane Gateway Ports Area Strategy
An Assessment of Environmental Impacts and Risk Factors.
REPORT
A must READ last two pages on air quality for Brisbane & S/E Qld Residents.
---
MAJOR CONCERN WORLD-WIDE
---
New Groups/New Listings
---
"...anyone can: How to start an environmental group and win a campaign",
the book is now available on this web site.
A must READ for any new community/environmental group starting out.
---
Does the Brisbane City Council watch this web site?


If so, are they concerned?
Should they be 1?
Should they be 2?
Should they be 3?
---
Press Release: Prime Minister Abandons Economic Rationalism
---
Complements of developers and BCC / Planners.
---
---
Community Groups' Home pages
---
---
The Rivermouth Action Group Inc.
Ban Aircraft over Residential Brisbane B.A.R.B.
Freight Rail Action Group FRAG
Minnippi Wetlands/Parkland under threat by BCC Golf Course
Moreton Bay Environmental Alliance
local history books Mt Gravatt Historian Literature Circle for sale
No OPTUS Tower near Brighton Homes and Schools Action Group
Protect ALL Remaining Redland's Wetlands Action Group
Sunshine Coast Residents Demanding Hormone Free Drinking Water Action Group.
Truth in Valuation Action Group
---
Government Departments, Corporations and contractors
---
Brisbane City Council's Rogues Gallery
Bunnings Warehouse Rogues Gallery
Department of Natural Resources' Rogues Gallery
ENERGEX Rogues Gallery
Environmental Protection Authority's Rogues Gallery
Ipswich City Council Rogues Gallery
MAIN ROADS' ROGUES GALLERY
POWER LINK's ROGUES GALLERY
Q-Build the saga continues
Q-RAIL's ROGUES GALLERY
QLD Department of Housing's ROGUES GALLERY
Redland Shire Council's Rogues Gallery
---
Pollution sites
---
This page links to most Pollution pictures sites on RAG site.
Emptying their mixers and barrows
---
Pollution by creek catchments
---
Brisbane River Pollution Points
Breakfast Creek Pollution Points
Blunder Creek Pollution Points
Bulimba Creek Pollution Points
Coolnwynpin Creek Pollution Points
To protect wetlands or not to protect wetlands Queensland style
---
---
ISSUES
---
Great News
The Rivermouth Action Group Inc.

New Community Noise Meter delivered 29 January 2000
Register your very noisy site in Brisbane in our data base being developed.
---
RAG's Peak Groups Consultation Policy
---
Acid Sulphate Soils
---
The 1998 Waltzing Matilda
---
The Legal Pages
---
Port Road (to Fisherman Islands) Consultation
---
Cancer link to Power Lines
---
Telecommunication Towers
---
AHD tide heights
---
---
List of Contacts for Local Groups.
---
Queensland State Government Acts
Australian Government Acts and other reports Index
---
Australian Federal Members of Parliament and Senators: E-mail addresses
---
E-mail Access to Queensland Ministerial Press Releases - all or some
---
This page is maintained by
The Rivermouth Action Group Inc
as a community service.
E-mail: activist@rag.org.au
---
The Rivermouth Action Group Inc appreciates the support from

for Web Hosting
---

for their assistance with our noise level meter purchase.
---
---
RAG Web Site's Copyright Information